Safety Management at Construction Sites
Overview
Accident‐ Effects & Causes
Responsibilities & Organizations for safety
Planning for safety
Safety management system
Benefits / Barriers in construction safety
Accident – Effects & Causes
Accident
"Any unplanned, uncontrolled, unwanted or uor undesirable event, or sudden mishap which interrupts an activity or function"
Effects of accidents
Injury (disability, pain, suffering)
Damage (equipment, building)
Loss (life, earning, output, image, time)
Emotion (following injury, pain, death)
Causes of accidents
"Accidents don't just happen, they are caused"
Plant & Equipment (faulty staircase, electrical hazards, defective/incorrect equipment)
Environment (high noise, insufficient light)
People (careless, untrained, overstressed)
System of work (poor design/site procedures)
Natural Hazards (EQ, Typhoons, Landslides, etc.)
 Responsibilities and Organization for Safety
There are humanitarian, legal, and economic grounds for providing a safe
place and system of work.
Clear allocation of responsibilities within the management structure,
especially at senior executive level and safety advisers.
The Role of Safety Adviser
Establishment and review of safety regulations to meet organization's requirements.
Relevant legislative requirements.
Safety content necessary in all trainings.
Regular inspection of safety standards in all work areas.
Planning for Safety
Main points in safety planning
Plant & Equipment (design, layout, inspection)
Workplace (maintenance of clean & orderly places with clearly defined access ways and fire exits)
Facilities (adequate first‐aid and medical facilities and hygienic wash and eating areas)
Procedures (prevention and practice of major emergency and first‐aid procedures in the event of serious hazard situation)
Training (provision of effective training for fire fighting, rescue and first‐aid crew)
Safety Management System
"Accident prevention is the process of removing or controlling accident causes"
Three major elements for accident prevention process;
1. Workplace inspection.
2. Accident investigation and follow‐up.
3. Safety training.
Workplace inspection (audit and review, safety survey/inspection/sampling, hazard potential assessment)
Accident investigation (data collection, checking evidences, selecting main evidence, analyzing the evidence) and follow‐up (decide, notify and record the most likely cause (s) of accident).
Safety training (part of safety policy, allocate responsibilities, define objectives, implement and monitor, review the over all effectiveness)
Benefits of Construction Safety
Reduced site hazards
fewer injuries and fatalities
Reduced workers compensation premiums
Increased productivity
Fewer delays due to accidents during construction allow continued focus on quality
Encourages client‐designer‐constructor collaboration
Barriers/Limitations
Like many good ideas, construction safety faces a number of
barriers that slow down its adoption.
Potential solutions to these barriers involve long‐term education and
institutional changes.
Barrier‐1: Fear of Liability
Barrier: Fear of undeserved liability for worker safety.
Potential solutions:

Develop revised model contract language.
Propose legislation to facilitate construction safety without inappropriately shifting liability onto client/designers/contractors.
Barrier‐2: Increased Construction Costs
Barrier: Implementation of construction safety rules will increase both direct and overhead costs for designers.
Potential solution:Educate owners that total project costs and total
project life cycle costs will decrease.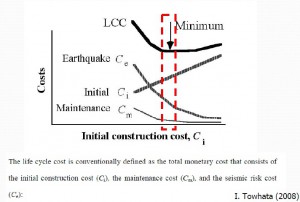 Barrier‐3: Lack of Safety Expertise
Barrier: Few engineering firms possess
sufficient expertise in construction safety.
 Potential solutions:

Add safety to design professional's curricula.
Develop and promote safety courses for professionals.
CONCLUSION
Three Steps towards Safety
1. Establish an adoptable culture
2. Establish adoptable / enabling processes
3. Secure clients who value life cycle safety
ASCE's Code of Ethics
Engineers shall recognize that the lives, safety, health and welfare of all the people are dependent upon engineering decisions ….