New 30 Marla House Design by Civilengineerspk
New 30 Marla House Design For Mr. Zeeshan
This New 30 Marla Modern and Victorian style House Contains Basement, Ground Floor, First Floor, Roof and 3D views. Architecture, Structure, Water supply, Sewerage and Electric design sheets are not uploaded here online. We upload only some of the images for internet users to have an idea about the quality of work we offer. People copy our designs but we keep uploading new designs with our logos on all the images. This New 30 Marla House Design contains double height entrance lobby after the podium giving a royal look. The number of rooms can be seen as follows.
Bed Rooms = 6
Living Rooms = 3
Dining Rooms = 2
Kitchens = 4 (Two Big, Two Small)
Movie Theater = 1
Bath Rooms = 8
Dressing Rooms = 4
Powder Rooms = 2
Big Car Porch
Terrace = 2
Stairs = 4, Spiral Stairs = 1
Stores = 4
Pantry = 1
Servant Quarters = 2 (With four beds capacity)
Very Big Lawn.
New 30 Marla House Basement Plan
New 30 Marla House Ground Floor Plan
New 30 Marla House First Floor Plan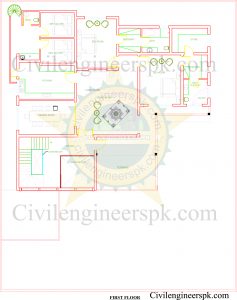 New 30 Marla House Roof Top Plan
New 30 Marla House 3D Exterior Victorian Style Look



If you want us to design your house at affordable rates, feel free to contact at civilengineerspk@gmail.com
More House Plans available on Civilengineerspk




New 30 Marla House Design, New 30 Marla House Design, New 30 Marla House Design