AGGREGATES Types Classification
AGGREGATES
Aggregates are the inert materials mixed with binding material like cement, lime or mud in the preparation of mortar or concrete.
NECESSITY OF AGGREGATES
To avoid cracking, shrinkage and to improve work-ability.
To reduce the cost factor, being cheaper than the cement.
To reduce heat of hydration.
CLASSIFICATION OF AGGREGATES
Depending upon the size of particles and type of use the aggregates are classified as:
Coarse aggregates which retain on ASTM sieve No. 4, or having a size greater than 4.75mm.
Fine aggregates which pass through ASTM sieve No.4, or having a size less than 4.75mm but not less than 0.07mm.
Aggregates between 0.06mm and 0.002mm is classified as silt and particles smaller are called clay.
TYPES OF COARSE AGGREGATES
• Gravels: Smooth surface natural stones. Source is the rivers in hilly areas. Available in various sizes and shapes.
• Bricks Ballasts/ Bats:
• Crushed stone obtained by crushing the boulders:
a) Margalla Crush
b) Sargodha Crush
c) Sakhi Sarwar Crush
d) Dina Crush
e) Others
Coarse aggregates may be in various grading as per requirement of the construction work.
Gravels
Brick Ballast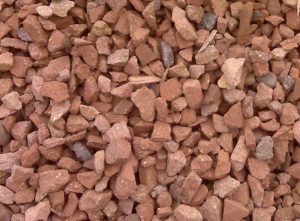 Crush
AGGREGATES MAY BE:
• Well Graded Aggregates: Having all required sizes of particles in required proportions
• Gap Graded Aggregates: Having some sizes missed from the sample.
• Uniformly Graded Aggregates: Having same sizes of all particles.
• Poorly Graded Aggregates: Having disturbed proportions of some sizes in a sample.
Various Lab. Tests on Coarse Aggregate:
Click on the following to see the detailed procedure of tests
• Gradation test (Sieve Analysis)
• Specific gravity and water absorption test.
• Shape test (Flakiness and Elongation)
• Los Angeles Abrasion value test (Hardness)
• Crushing and Impact value tests
• Others

TYPES OF FINE AGGREGATES
1. Surkhi
2. Sand
3. Others
SAND
It consists of small grains of Silica and is formed by the disintegration of rocks caused by weathering.
TYPES OF SAND
1. Local pit sand: Found as deposit in soil and has to be excavated out. Grains of it are generally sharp and angular. If free from organic matter and clay , it is extremely good for use in mortar and concrete.
2. Sea Sand: Thorough washing is required before use to remove the salts.
3. River Sand: It is obtained from the banks and beds of rivers. It may be fine or coarse.
• River Ravi Sand: F.M < 1.0, very fine sand containing higher %age of silt. Harmful for structural concrete and mortars due to excessive silt.
• Chenab Sand: F.M >1.0. Good for mortars.
• Sakhi Sarwar Sand: F.M >2.0. Good for Concrete
• Lawerencepur Sand: F.M > 2.0. Coarse sand. Good for concrete works.
• Others
FM is Fineness Modulus (Click here to see how its calculated)
VARIOUS LAB TESTS ON SAND
Fineness Modulus, Silt test, Specific Gravity, Water absorption, Bulk density etc. (All These Tests are available here)
QUALITIES OF GOOD SAND
1. Good sand should have coarse and angular grains of pure Silica.
2. Good sand should be free from silt, clay or any such salts that may attack the reinforcement.
3. Good sand should not contain any organic matter or any hygroscopic matter.
FUNCTION OF SAND IN MORTAR
1. It is used as an adulterant to increase the volume of mortar, making it economical.
2. It reduces shrinkage and cracking of mortar on setting.
3. It helps pure lime to set because it allows the penetration of air which provides Carbon Dioxide required for carbonization and setting of lime.
BULKING OF SAND
It is the phenomenon by which volume of sand fluctuates with the variation in its moisture contents. Surface moisture holds the particles apart causing an increase in volume over the same amount of sands in surface dry conditions. The amount of bulking will depend on the fineness of sand and bulking effect increases with the increase in moisture contents upto certain limits. Finer sands experience more bulking effects as high as upto 33%, against a moisture content upto 8%